Why choose Tinderglow?
Honesty & Integrity
The most important reason to choose Tinderglow for your next project is our honesty and integrity. When we say something, we mean it. When we promise to get something done, we do. That's our motto, creed and how we live.
Customer Service
Supporting our customers is job #1. We have depth in our team through creative agreements with other like-minded companies so that we are always able to offer the support you require.
Agile Development
We believe in agile development. More of what you want, faster, at a reasonable cost. When we meet with you regularly, and change direction if you need to, you get the product that you want without the regret.
One Stop
Tinderglow has expertise in most areas of technology, and if we don't we know others who do. You can trust Tinderglow with all of your needs, confident that we can deliver.
Rails Expertise
We've been working in Rails for the last nine years full-time. We've worked with many different companies who have had radically different needs and styles. The common thread They love the work we do.
Exceptional Experience
Tinderglow consultants have broad experience with many aspects of IT. From custom software development, to networking experience, cloud hosting and big data.
Tinderglow consultants have worked in Fortune 500 companies, large supply chain companies as well as startups focusing on business intelligence and big data. We've worked for nationally known retailers and brands that serve the education sector. We've also done work for local schools and other non-profits. The breadth of our experience can benefit your company -- whether large or small.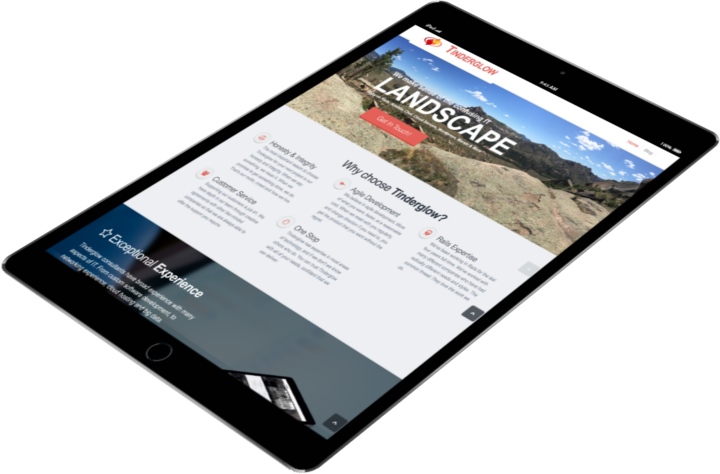 Agile Custom Software Development
Software done right, every time
What do we mean by Agile software development. It means that we get you involved in every aspect of the development process and we deliver small "iterations" of functionality that you approve. If we're going down the wrong path, we catch it early and not late in the process. This results in the software that you want without waste.
DevOps
We have expertise in the practice of DevOps.
We've been working on servers since the late 1990s and have worked in Fortune 500 companies, small companies, and others in between. We can manage your infrastructure with best practices. We have experience with Ansible, Chef, Puppet, SaltStack and others. Let Tinderglow define your infrastructure in code.
Networking
We work on networking solutions for SMB
While we don't manage networks for the big companies, we work with small business and schools to help define their infrastructure and make their networks successful. We have experience with Meraki and Ubiquiti systems networks. We specialize in multi-campus deployments.
Wordpress Commerce
We specialize in marketing and ecommerce sites for Wordpress
We have been working with WooCommerce and Wordpress for the last couple of years and have found some of the sweet spots for a Wordpress eCommerce site. Let Tinderglow grow your ecommerce presence. We can start with something like WooCommerce and then grow to custom software development if needed.
"We feel very fortunate having Tinderglow on our team. Exceptional, astute, ethical service is what you come to expect with Tinderglow. Thank you Tinderglow for being there for us!"

- Anne Thatcher, COO, SCRIP-SAFE® Security Products
"Creative and skilled yes, but more than that Tinderglow truly listens.
The results are what we wanted and better than we imagined!"

- James Whitman, Director, The Center for Judaic-Christian Studies
"Your technical skills and your dedication and focus is unsurpassed in my opinion"

- Tom Laskowski, Midwest Native Skills Institute